5 Design Psychology Updates from Joy to the Home Kitchen
Since we moved into our new home, I've learned a few home decorating ideas about my Design Psychology practices. I'm also amazed at how patient I've become waiting to finish the stripped kitchen.
No matter how many times I have updated the following photobucket slideshow, it still doesn't delete deleted slides or show the titles.
Countertop Choices
I always preferred plain, simple countertops because kitchens get so cluttered. There's no way I'm taking out the special granite (I believe Brazilian Bianco Antico) counters with gold sparkles which came with my home. After a few months of keeping the countertops cleared off except for a few strategically placed useful accessories, I've fallen in love with the busy pattern. Since we used the plain cream limestone counters in the party kitchen, I'm happy with the pattern balance.
Drawers vs. Cabinets
If you could take away my lower shelf cabinets and replace them with drawers, I would be pleased. Drawers provide easy access without bending and reaching from an uncomfortable angle. I'm grateful for the KraftMaid large drawers next to the cooking area.
Green Kitchen Lifestyle
It's not clear why the kitchen designer put in a pull out and up shelf. It's totally perfect for our Vitamix Green Smoothie machine. Since we eat mostly fresh garden foods and don't require a separate electric deep freeze, KraftMaid's Multi-Storage Pantry and Double Waste Basket systems make the most sense for the ugly space.
Multiple Kitchen Rooms
Because we don't store packaged or canned foods, we turned the large pantry space into a party kitchen with an extra dishwasher and a deep, deep sink. There is a mud room used for small hand tools, garden supplies and a hallway with a water pipe waiting for an ice machine and more cabinets. (I still have boxes and bins full of kitchen pottery to unpack.) The Design Psychology update for me is the idea of separate rooms in a perfect kitchen. During a party, you can load up the "dirty kitchen" and close the door.
Growing Up with Color Psychology
This kitchen, painted the same buttery yellow as our Florida 1878 Queen Anne Victorian home where I discovered Design Psychology in 1986, has taught me about color combinations. My color preference change? Expresso cabinets. I've grown from loving Golden Oak to loving rich dark cabinets and walnut flooring.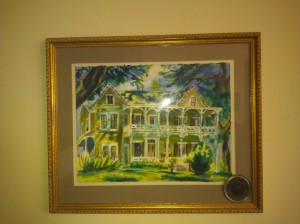 Our Victorian Florida home surrounded by the butter yellow walls in our new home.
One Wabi Sabi observation… While most faucets were stripped, the kitchen came with an oiled bronze faucet. A gold plated faucet purchased with many items off craigslist, fits the bar sink perfectly and sets off the antique fruit framed eagle mirror. Using what we have… mixing metals, iron, stainless, gold, bronze, and nickel feels just right!
What is the ONE thing you can't live without in your kitchen?
More about Wabi Sabi.