Pasadena Red Cross Home Tour Spa
The Pasadena Red Cross Design Tour featured a home and garden in La Canada-Flintridge. The terraced gardens include a huge pool, magnificent spa, waterfalls, water slide, sunning beach in the pool, tables and stools built-in the pool, and a magnificent, super-sized, outdoor kitchen with more amenities than most mansions, a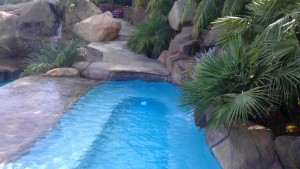 n outdoor living room with a second large flat TV, a grotto bathroom, and even a secondary kitchen area for serving!
The clever spa design takes full advantage of the view setting overlooking the Los Angeles basin to the ocean.
All of this will be featured in an upcoming Joy TV special "Joy to the Home" series.