Joy to the Kitchen!
My Twitter friend, Caroline Di Diego, AKA @CASUDI, started a great dialog on architectural kitchen design. She invites you to share your kitchen in "show & tell" format.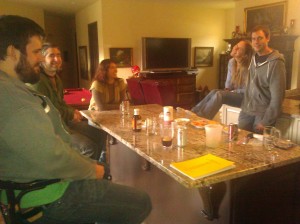 This is the current scene as I write this post early Saturday evening. My kitchen has two islands, an antique bar corner, a pool table, a fireplace, and a TV. Most people call this a great room. We call it the kitchen.
My mother Jayne St John's easel is also in the kitchen.
I didn't design my new kitchen. Since some of the pieces were missing in the bank-owned unfinished home, I did get to add my design ideas. We're still working on the kitchen; you will see holes where features like warming drawers go. At least I got to specify the absolute quiet dishwasher and garbage disposal. (Sleek Frigidaire Professional from Lowe's… already did the two drawer expensive mistake.)
The antique bar and mirror with fruit frame are from our Florida Victorian home; light from Istanbul. Bringing my furnishings with me keeps me from missing my former homes.
I'll take better photos soon.  The kitchen is a work of art in progress. I love the walnut flooring, the busy sparkling granite, the self-closing drawers, the view… We still need to decide about a pantry versus a sub-zero freezer, a warming drawer, a pot filler, and a 48″ stove.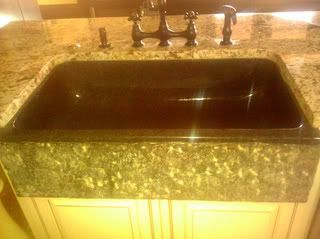 Stone sink
Another amazing coincidence about this house, I have a photo on an old interior design website of a similar sink I liked!
I did get to design the "dirty kitchen" which has a larger sink and a second dishwasher.
A shelf has been added under the cabinet; mirrors and iron baker's racks coming.
What would you put in your dream kitchen?
Joy to your kitchen!